Build a Party Board for any At-Home Occasion
Hosting sports fans, movie lovers, or brunch goers? Looking for a fun, interactive way to serve a kid-friendly breakfast or a savory dinner to the fam? A simple but hearty party board will keep everyone full and happy. Inspired by the ever-popular charcuterie board, party boards— also known as dinner boards, party platters, grazing tables — are a creative way to display your brunch, lunch, or dinner menu offerings.
From setting your table, menu and more, we'll show you how to elevate your at-home set-up with these trendy mealtime displays…
How to make your own Party Board
Lay the Foundation
Party boards are meant to be casual, so we recommend starting with a rustic look. Cover your table with butcher or art paper and grab a large cutting board, marble slab, or serving platter for your food foundation, and then…
- Place small containers strategically on the board for dips and sauces.
- Provide multiple serving utensils and tongs. Don't forget - no double-dipping!
- Planning multiple party platters? Incorporate tiered spice racks or cake plates to stack smaller food, upgrading your spread to a whole grazing table
Big Portions
Party boards are not only about what you serve but, almost more importantly, how you serve it. First, the boards should be loaded with a lot of food. Traditionally, charcuterie-style boards are filled with nibbly things liked sliced meats, cheese, crackers, etc. These new party boards take it to the next level; boasting full, flavor-packed meals or – dare we say – feasts!
Set the Menu
With your board ready and large portions in mind, it's time for the menu. Are you planning a brunch board full of breakfast items? A lunch platter with buildable ingredients? A colorful dinner tray complete with sides and toppings?
When choosing a party board menu, consider your audience, their interests and preferences. Sometimes setting a theme can help:
Think Wings For Sports Fans
Sports fans + game night = chicken wings! Order up Metro Diner's Game Day Combo or Boneless Wing Pack, each served 48 bone-in or boneless buffalo wings with celery sticks, sweet and spicy dipping sauces and a side of your choice. Score extra points when you add your own sliced raw veggies and dips like hummus or spiced-up cream cheese.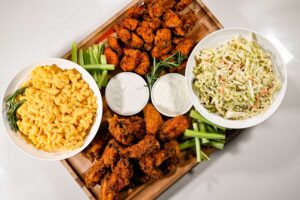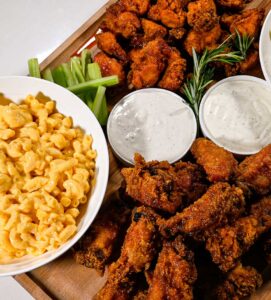 Comfort Foodies?
Focus on Southern classics like Metro Diner's Fried Chicken & Waffles or limited-time savory Stuff N' Waffles such as the time Sausage Gravy & Fried Chicken Tender Stuff 'N Waffle. Break the waffles into quarters and layer around your board, surrounded by toppings like Metro Diner's sweet strawberry butter, signature sweet & spicy sauce, and savory sausage gravy, with a serving spoon for each. Fill in the blank spaces with buttermilk marinated fried chicken!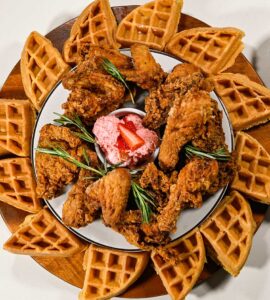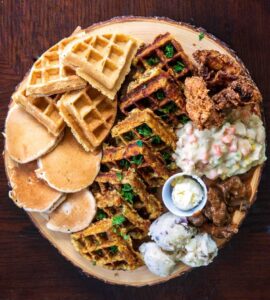 Calling all breakfast buds!
Serve up a Griddle & Meat Board because breakfast is a hit at any time of day! Think french toast, pancakes, bacon, sausage and ham with sides of syrup, fresh fruit and whipped cream. Elevate the spread by displaying it on tiered cake plates and serving syrups in diner-style pitchers.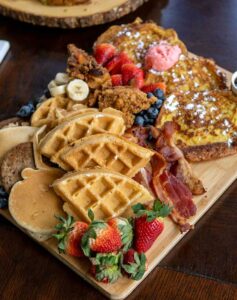 Many of the suggestions above are available as Family Packs on the Metro Diner menu. These meal packs serve 4-6 people, making them a great foundation for your breakfast, brunch, lunch, or dinner party board.
Now that you've set it all up, join your guests at the table and enjoy your own party, no matter how big or small!
-Your friends from Metro Diner!