Cheers to Mimosas
It's a concoction you know and love: sparkling wine, fresh OJ in a tall, ice-cold glass – here's to lazy weekends and mimosas! Though the origin story of this bubbly beverage is a little mysterious (more on that later), one thing is for certain: mimosas make mornings (or any time, really!) way more fun.
---
Mix It Up
Mimosa Recipes for any Occasion
Let's start with the basics. First, you don't have invest in a true champagne to get the recipe right. Save the expensive stuff for special occasions and opt for sparkling dry wines like Cava or Prosecco. Both are affordable and refreshing! Pop them in the fridge and your work is just about done.
How much alcohol is in a mimosa?
For the classic, easy mimosa recipe, pour your sparkling wine and fresh, pulp-free orange juice in a chilled glass. The key to this bubbly beverage is getting your ratios right. One part OJ to two parts sparkling wine is the standard. For a sweeter sip, go 50/50; for something a little bit stronger, 60/40… or you know, 80/20. There are no hard and fast rules for making a mimosa!
Speaking of which, who says you need to stick with orange juice? Not Metro Diner! We're happy to swap out orange juice for pineapple or cranberry juice – or a combo of juices! We also introduce seasonal flavors so ask your server what mixers choices you have.
Mimosa Recipes
Here are a few more mimosa iterations to try at home that may have you changing your allegiance to OJ altogether.
Strawberry Mimosa: Pretty in pink. Purée fresh strawberries with orange juice and use a fine mesh strainer to eliminate seeds. Add your bubbly and garnish with a sprig of mint and a fresh slice of strawberry. Perfect for Valentine's Day!
Peach Mimosa: Peachy Keen. Mix equal parts chilled peach nectar with OJ and combine with sparkling wine—remember, you're in charge of those ratios! Garnish with a fresh peach wedge.
Pineapple Mimosa: Sweet and Summery. Fresh pineapple juice is the star of the show here. For an even more tropical twist, pour your sparkling wine and pineapple juice first and top with a splash of coconut milk. Can you say piñamimocolada?
Cranberry Mimosa: Pucker up! This tart take on the classic looks so beautiful with a sprig of rosemary and a few fresh cranberries. Simply use cranberry juice as your base and mix with your choice of sparkling wine. Make a batch of these on Christmas morning and thank us later.
Frozen Mimosa Recipe: So refreshing! And here's the beauty: you can use any of the variations above to make it. Start by filling a couple ice cube trays with your choice of juice and freeze for at least two hours. Throw the cubes in a blender with a little extra juice and sparkling wine. The best kind of brain freeze!
There you have it, a few brunch recipe ideas you never knew you needed 🥂
Brunch is Better with Bubbles
Classic Mimosa Food Pairings
There's no wrong time to enjoy a mimosa, although brunch is a perfect match for this lively sip. So, what to pair with a mimosa? Simple, savory classics that will start your day with spirit and celebration.
Here at Metro Diner, we can recommend several perfect pairings to inspire your next brunch order:
Omelets: Our Veggie, Western and Meatlovers Omelets have all the good things folded into a blanket of perfectly cooked eggs. Light and fluffy, served with a choice of hashbrowns or grits. You can definitely drink to this!
Belgian Waffles: Thick and light, a true Belgian waffle. Ask for a dollop of sweet strawberry butter. Wash this sweet, delicate bite down with a citrusy sip of mimosa.
Eggs Benedict: Canadian bacon, two poached eggs on an English muffin, topped with creamy hollandaise and served with a side of hashbrowns. The lemon in the hollandaise and the orange in your mimosa make the best kind of flavor friends.
Avocado Toast: Fresh chopped avocado and sliced tomato on eight-grain toast. Light, lively and luscious. Pair with a mimosa for just the right amount of pep (pictured)
Classic Breakfast: Keeping it simple and delicious is what mimosas are all about, and Metro Diner's Bissell Breakfast (pictured) fits that bill: two eggs any style, bacon, toast, hashbrowns or grits, and a short stack of pancakes. The ideal match for your Metro Diner Mimosa.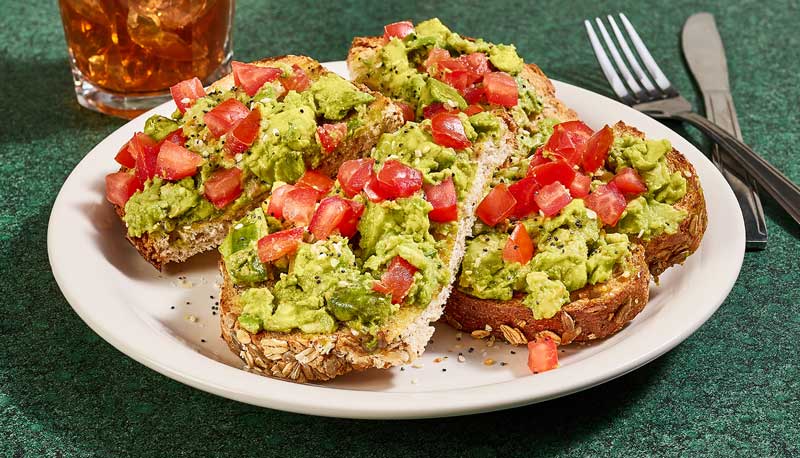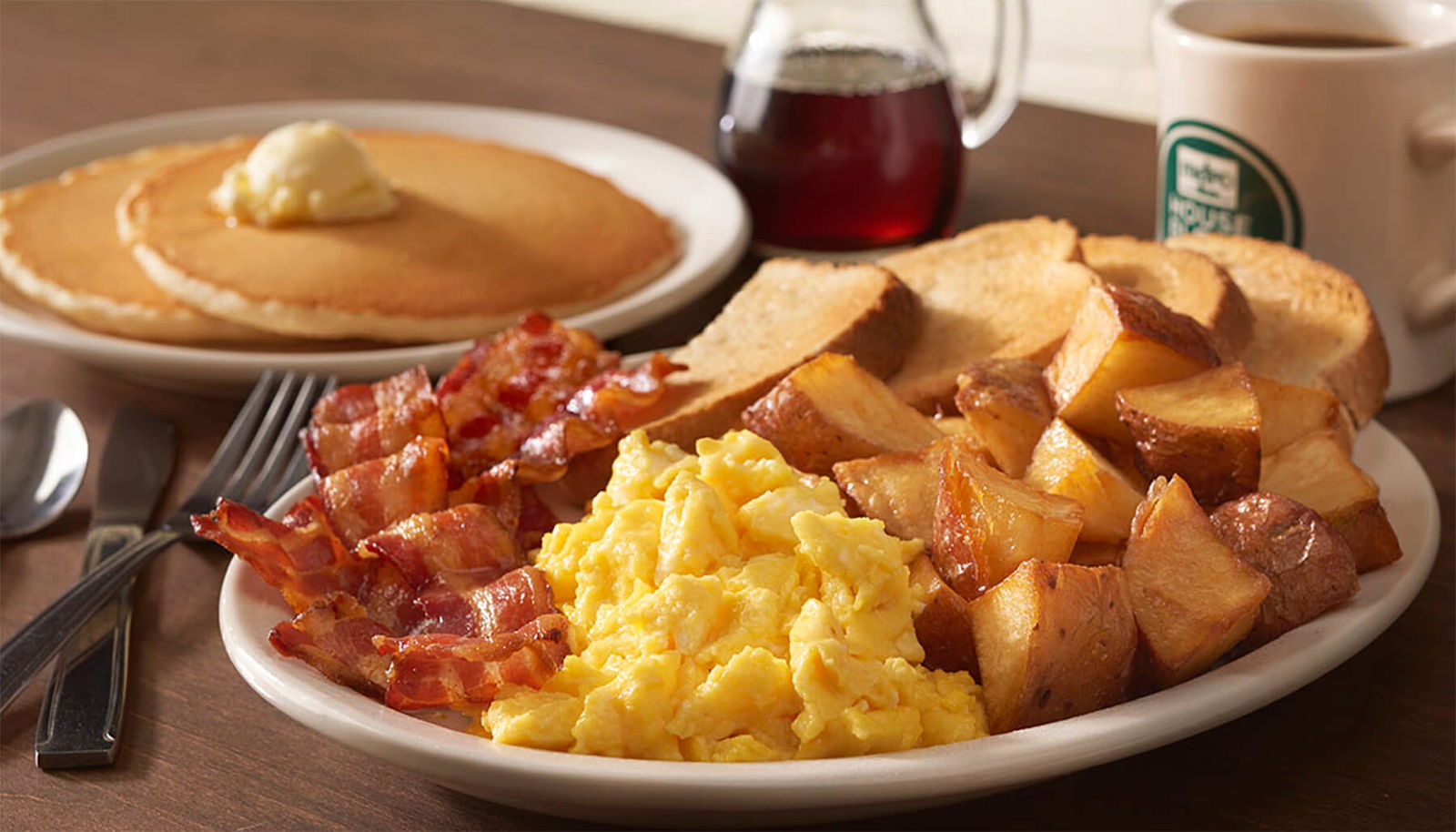 View our full Brunch Menu for other delicious dish ideas.
Mimosas at home
Planning a brunch at-home? Serve up some mimosas alongside a brunch board, creatively displaying brunch favorites for your guests to nibble on or build their own decadent plate. Metro Diner can help fill those boards – and have it delivered right to your house if you'd like! Or, if you're feeding over 8 or more, order Metro Diner Catering! We recommend starting with The Big Spread as your base, its our most popular and comprehensive breakfast catering option.  We've got some ideas on how these could look.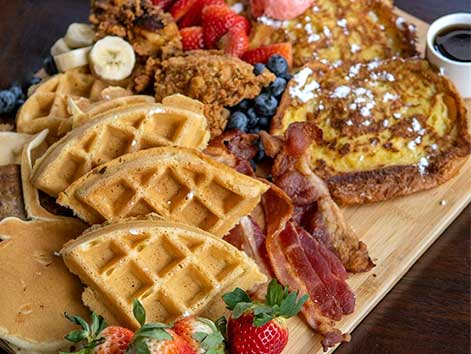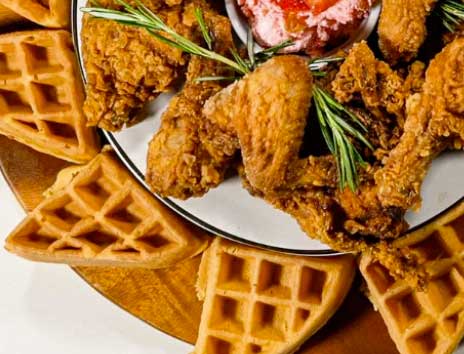 The History of Mimosas
Oh, it was a Glamorous Affair
So, who do we have to thank for this miraculous libation? It's hard to say for sure, but there are three good candidates: The Buck's Club in London, The Ritz Bar in France, and Alfred Hitchcock.
Here's the scoop:
1921: The Buck's Club starts serving sparkling wine with a splash of orange juice called the Buck's Fizz.
1925: American bartender Frank Meier is then inspired to refine the recipe; he changes the proportions to equal parts bubbly and OJ and serves it at The Ritz.
1940:  Alfred Hitchcock spontaneously invents the mimosa in a San Francisco bar one morning after a wild night with a pal.
Some historians note that something called a champagne orange was served in the south of France even before the Buck's Fizz, so it's hard to give any of one of these sources all the credit.
What we know for sure is that once British Royals caught wind of this delightful bevvy in the 1960s, mimosas became a breakfast table staple. From that moment forward, they became an international sensation. And because the recipe for a mimosa is simple, accessible and adaptable, it was a luxury that you didn't have to be the Queen Mum to afford.
Fortunately, that hasn't changed, mimosas have never been more popular or easy to make! Plus, bartenders are only getting more creative with this classic, so there's no chance America's love affair with this fizzy lifting drink will fizzle out any time soon.
Celebrate National Mimosa Day at the award-winning Metro Diner
National Mimosa Day falls on May 16th every year, but we don't need holiday to celebrate! Metro Diner serves mimosas all day, every day.* We also have your breakfast and brunch favorites covered— Buttermilk Pancakes, Fried Chicken & Waffles, Charleston Shrimp & Grits, and so much more.
Stop in with some pals so you can "research" mimosa brunch menu ideas. You'll be greeted with a warm welcome and heaping portions of southern comfort food that will hit the spot after a mimosa or two.
*Alcohol is not available at all locations. Please contact your diner for details.