Metro Diner to Opens its First Location in Terre Haute, IN
Local guests and visitors will enjoy hearty, heartwarming fare from the restaurant known for its craveable comfort food
TERRE HAUTE, IN (February 9, 2023) – Metro Diner, where friends and family gather to dig into seriously satisfying meals, opened its first Terre Haute location on Monday, February 6. The diner is serving its classic menu and warm hospitality from a new 120-seat, 4,000-square-foot space located at 3451 US Highway 41.
"It's exciting to open the first Metro Diner in this market where new guests become regulars, and regulars become part of our diner family," said Randy Paugh, Terre Haute Managing Partner. "We look forward to being a place where the community can come together to enjoy each other's company and our indulgent comfort food."
A longtime Terre Haute resident with extensive restaurant management experience, Paugh first moved to the city to attend Indiana State University almost three decades ago. He lives here with his wife of 22 years and their two children, who attend Vigo County schools.
The Terre Haute menu includes the kind of authentic appetite-pleasers that got Metro Diner noticed by casual food guru Guy Fieri and his Food Network show Diners, Drive-ins and Dives. Popular menu items include Metro Diner's Scramble Bowls, Charleston Shrimp & Grits, Iron City Meatloaf and its best-known entrée, the famous Fried Chicken & Waffles: half a fried chicken resting on a Belgian waffle, topped with powdered sugar and strawberry butter and served with signature sweet-and-spicy sauce.
For a limited time, guests will also enjoy a seasonal selection of Strawberry Shortcake Griddles, featuring homemade bread pudding, Belgian waffle or pancakes drizzled with strawberry cream cheese icing and topped with fresh strawberries and cobbler crumble.
The restaurant is open for breakfast and lunch daily, offering in-diner service, curbside pickup and delivery. Starting February 15, catering will be available with grab-and-go Sandwich Platters, a Fried Chicken Tender Pack and other popular bundles.
Metro Diner is hiring new team members for all positions. To apply, visit the Careers page on the restaurant website.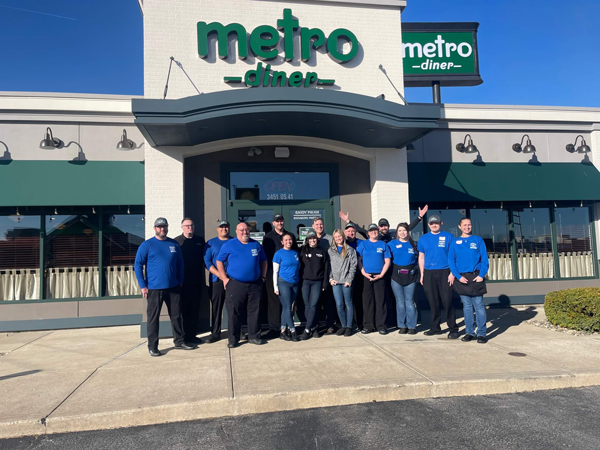 About Metro Diner
Established in 1992 by the Davoli family with a single eatery in Jacksonville, Metro Diner is among the nation's fastest growing locally owned and operated family dining concepts, with 60 locations across the country. Metro Diner is known for its warm, welcoming service, large portion sizes and serious diner food. Metro Diner has received many accolades including features on Food Network's Diners, Drive-Ins and Dives and Cooking Channel's Cheap Eats. To learn more about Metro Diner, find a full list of locations or place a catering order, visit www.metrodiner.com and "Like" Metro Diner on Facebook, or follow @MetroDiner on Instagram and Twitter.
###