Metro Diner Opens first location in Jacksonville, NC
Metro Diner guests and visitors will enjoy hearty, heartwarming fare from the restaurant known for its craveable comfort food
JACKSONVILLE, N.C. (March 16, 2023) – Metro Diner, where friends and family gather to dig into seriously satisfying meals, opened its first Jacksonville location on Monday, March 13. The diner serves its award-winning menu from a new 118-seat, 3,553-square-foot space located at 3010 Western Blvd.
"Our goal is to be the go-to spot for locals, turning new guests turn into regulars who become part of our diner family," said Mark Moses, Jacksonville Managing Partner "Positioned in the heart of the city, we are excited to engage with our neighbors, especially the military community. We look forward to giving back to those who enable us to have the freedoms we have, and to serve them for years to come."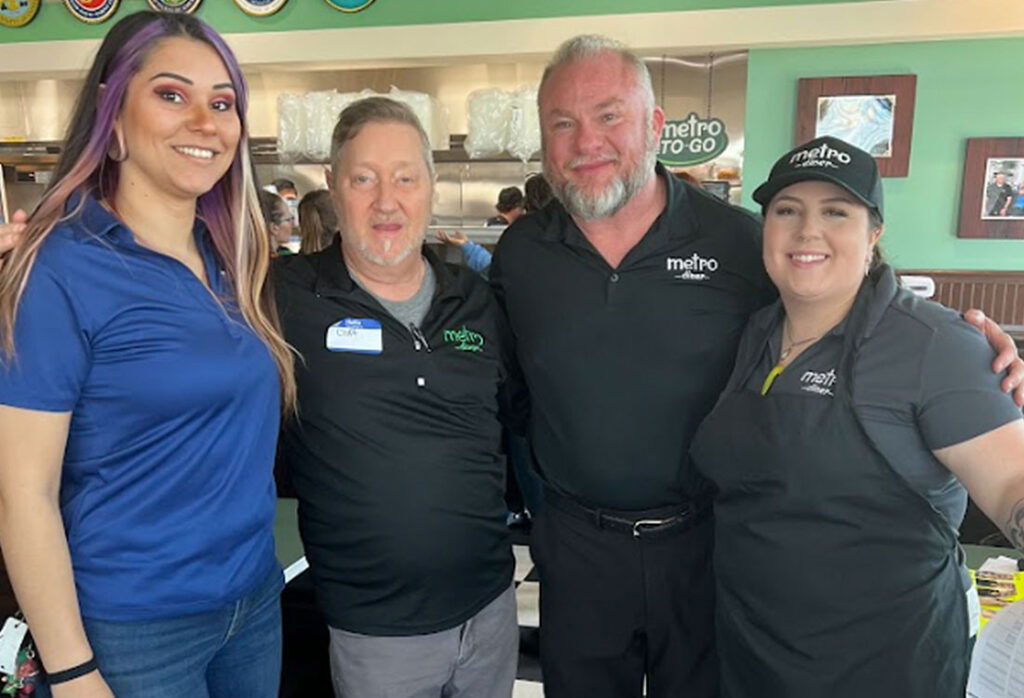 As a North Carolina native and a graduate from East Duplin High School, just 30 minutes away, Moses brings the warm southern hospitality and delicious dishes the diner is famous for to this area and Camp Lejeune. He also brings 14+ years of restaurant management experience and a strong respect for the US Military. On two separate occasions, Moses has participated in FEEDING FREEDOM, an event feeding over 70 thousand troops. He is thrilled to further his support to the military in Jacksonville alongside his new diner team.
Metro Diner's menu includes the kind of authentic appetite-pleasers that got the restaurant noticed by casual food guru Guy Fieri and his Food Network show Diners, Drive-ins and Dives. Popular menu items include Metro Diner's Scramble Bowls, Charleston Shrimp & Grits, Iron City Meatloaf and its best-known entrée, the famous Fried Chicken & Waffles: half a fried chicken resting on a Belgian waffle, topped with powdered sugar and strawberry butter and served with signature sweet-and-spicy sauce.
For a limited time, guests can also enjoy the crispy Chicken and Shrimp Po' Boys and a seasonal selection of Carrot Cake Griddles, featuring homemade bread pudding, Belgian waffle or pancakes infused with carrot cakes, drizzled with cream cheese icing, candied pecans and powdered sugar.
The restaurant is open for breakfast and lunch daily, offering in-diner service, curbside pickup and delivery. The diner will offer a 10% discount to all uniformed first responders and active or retired members of the military.
Metro Diner is hiring new team members for all positions. To apply, visit the Metro Diner Careers page.
About Metro Diner
Established in 1992 by the Davoli family with a single eatery in Jacksonville, Metro Diner is among the nation's fastest growing locally owned and operated family dining concepts, with 61 locations across the country. Metro Diner is known for its warm, welcoming service, large portion sizes and serious diner food. Metro Diner has received many accolades including features on Food Network's Diners, Drive-Ins and Dives and Cooking Channel's Cheap Eats. To learn more about Metro Diner, find a full list of locations or place a catering order, visit www.metrodiner.com and "Like" Metro Diner on Facebook, or follow @MetroDiner on Instagram and Twitter.