Back to School Dinner Hack with Metro Diner
As the summer season comes to an end and school is back in session, order-up, grab and enjoy a Family Meal to-go from Metro Diner to satisfy busy schedules and picky students all in one stop.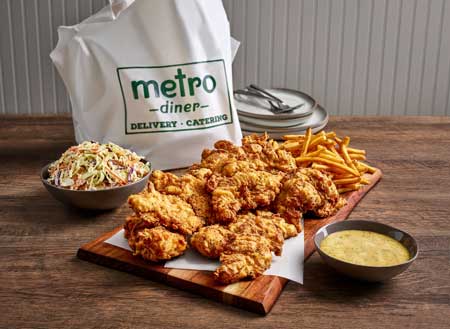 Try family favs like Metro Diner's Fried Chicken Tenders for Four, served complete with buttermilk marinated chicken tenders, seasoned fries and choice of coleslaw or macaroni & cheese, and call dinner 'done.'
Additional crowd-pleasing Family Meals that serve up to four people include:
- Roasted Turkey: Oven roasted turkey breast, sliced in house, served with cranberry sauce, cornbread stuffing, creamy mashed potatoes and green beans.
- Iron City Meatloaf: The diner's famous griddle-seared meatloaf with rich brown gravy, creamy mashed potatoes and green beans.
- Breakfast for Dinner, why not?!: Fried Chicken & Waffles: The diner's famous fried chicken and Belgian waffles served with sweet, strawberry butter and signature sweet and spicy sauce (includes 12 pieces of hearty fried chicken).
To view the full Family Meals menu or to place an order, visit https://metrodiner.com/menus/family-meals/.