Beer & Food Pairings at Metro Diner
Celebrate National Beer Day (or Any Day!)
Every year, National Beer Day falls on April 7, but there's no reason to wait until then to enjoy an icy cold glass of America's favorite brew! Here at Metro Diner, many of our locations serve alcohol* including national and local beer brands that pair perfectly with our award-winning diner-style comfort food.
---
Fun Beer Facts
Floridians love beer
National Beer Day commemorates the 1933 signing of the Cullen-Harrison Act, which reversed prohibition on the distribution and sale of beer. The day before National Beer Day, April 6, is cleverly known as "New Beers Eve."
Did You Know… 
Beer is one of the world's oldest beverages, dating back to 5,000 BC
There are believed to be over 100 types of beer around the world People consume over 50 billion gallons of beer every year! Cheers!
Here in the US, the top three beer loving states are California, Texas and… Florida! (Which is also home to the original Metro Diner. Coincidence? We think not.)
The most popular beer in Florida is Stella Artois, but Budweiser and Bud Light are runners up.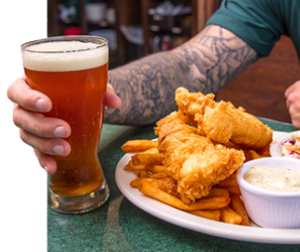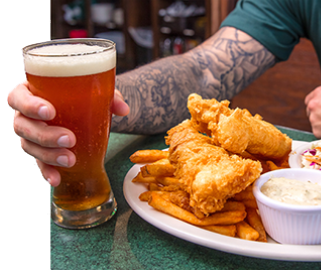 One Beer For You, One Beer for the Batter
Metro Diner Menu Favorite: Fish & Chips + Michelob Ultra
What's the secret to the amazing, crispy coating on Metro Diner's Fish & Chips? Beer! Why beer in the batter? The beverage's carbonation and alcohol combine to make our fish & chips next level crispy. And if there's beer in the batter, it's only natural that our Fish & Chips will taste great with a chilled pint of brew.
Come by Metro Diner for Fish Fry Friday (or any day), order up a Fish & Chips platter with coleslaw, seasoned fries and soup or salad, or go with the Friday-only Fried Fish Sandwich with lettuce, tomato, and creamy tartar sauce on a brioche bun and a side of seasoned fries.
Fried foods pair great with highly carbonated beer like a lager – so round out your fried fish meal with a crisp Michelob Ultra or ask your diner what local beers they have available!
Burgers and Beer, What Could Be Better?
Metro Diner Burgers + Bud Light
A juicy burger and cold beer have been a classic American pairing since the beginning of time.
Our fresh, never frozen 100% Angus burgers come hot off the grill and are paired with seasoned fries (or another side of your choosing). For lunch or dinner, guests love our Classic Burger topped with cheddar, lettuce, tomato and red onion. We recommend pairing your burger with a pilsner like a Bud Light which, with every sip, preps your palate for that next delicious bite!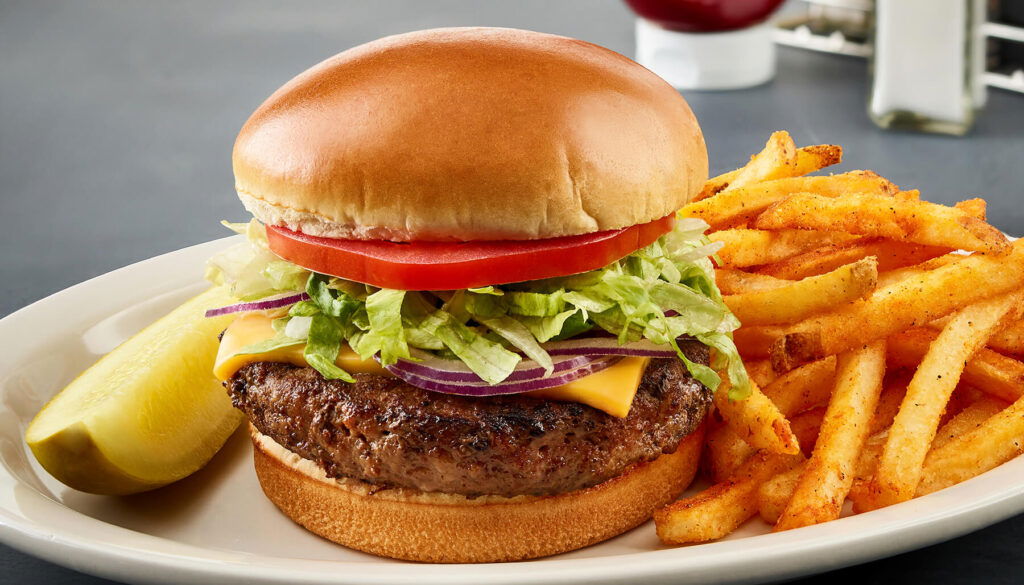 In fact, just about everythin we serve can be enjoyed with a cold, refreshing beer, from our signature Fried Chicken and Waffles with Sweet Strawberry Butter to Charleston Shrimp & Grits, biscuit-topped Chicken Pot Pie, or our griddle-seared Iron City Meatloaf made famous by Guy Fieri on Diner's Drive-Ins and Drives.
Not into beer? We offer other alcohol including wine, mimosas, and Bloody Marys, too!
Searching "Beer Near Me"?
Grab a cold one at Metro Diner before or after the game
It's not only our big portions, bold flavors, diner classics and breakfast all day that'll bring you to Metro Diner, it's also the community spirit that can be found at each of our locations.
Our Metro Diner locations are often conveniently situated near sports stadiums and recreational fields, making us an ideal spot for fueling up with a BLT, Philly Cheesesteak or Classic Burger and a beer before or after a great practice or the big game. So, next time you're looking up "beer near me" know that Metro Diner is your best answer!
Diner Locations Serving Alcohol
Most of our locations serve alcohol with the exception of our locations in Pennsylvania and Delaware, who allow BYOB. Join us for Bloody Marys or Mimosas, wine, bottled beer, and more — every day all day! Contact your diner for details.