Yep,  this waffle's pressed from cornbread stuffing! On top of that, we layer Metro Classics: roasted turkey with mashed potatoes & gravy or crispy chicken tenders with sausage gravy. Hurry in — these are only around this holiday season!
Savory & Stacked Waffles At Metro Diner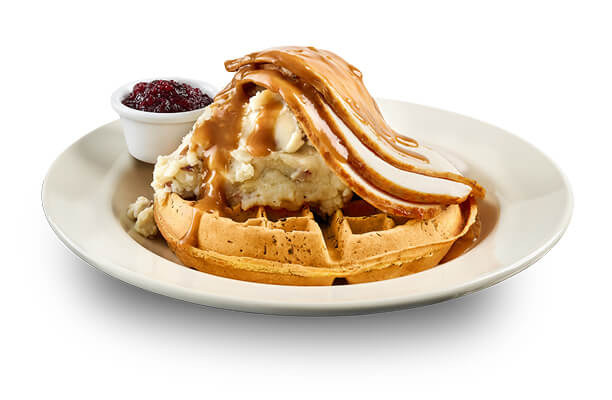 Roasted Turkey Waffle
$12.99
Seasoned Turkey breast roasted in house with signature gravy, creamy mashed potatoes atop a savory stuffing waffle and a side of cranberry sauce.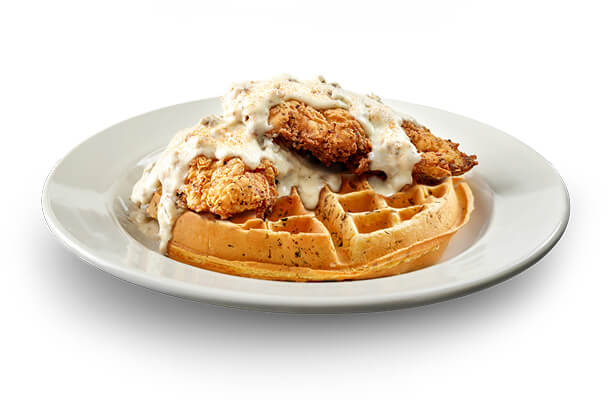 Sausage & Gravy Chicken Tenders Waffle
$12.99
Two buttermilk marinated and fried chicken tenders topped with sausage gravy, over our homemade waffle pressed from stuffing, with sweet and spicy sauce on the side

Another Metro Diner Seasonal Favorite...

'Tis the season for all our favorite traditional holiday meals! Join us for our limited time Festive Holiday Turkey or Ham dinners, complete with mashed potatoes & gravy, stuffing, green beans, and seasonal bread pudding for dessert! Available for $15.99 in-diner or order it to-go!

Find Your Diner

Fried Chicken & Waffle: A Classic Metro Diner Dish

Featuring half a fried chicken and a Belgian waffle, our classic Fried Chicken & Waffle entrée is topped with powdered sugar and accompanied by sweet, strawberry butter. Served with our signature sweet and spicy sauce, this sweet-meets-savory dish is a Metro Menu signature staple perfect for breakfast, lunch or dinner!

So delicious there's a national holiday to celebrate it!

The Stuff 'N Waffle is a limited-time, seasonal, inspiration of this classic dish. Get it while you can!

Order Online