Reopening Jacksonville: Diners, customers happy to be hanging out again
Customers are returning to Jacksonville restaurants as dining rooms reopened last week with mandatory occupancy restrictions intended to prevent the spread of COVID-19.
Bacon sizzled, eggs scrambled and creamy sausage gravy smothered golden, flaky biscuits at the original Metro Diner in San Marco.
It's been a week since Gov. Ron DeSantis allowed restaurants statewide to reopen their dining rooms to guests at 25 percent occupancy during the coronavirus pandemic.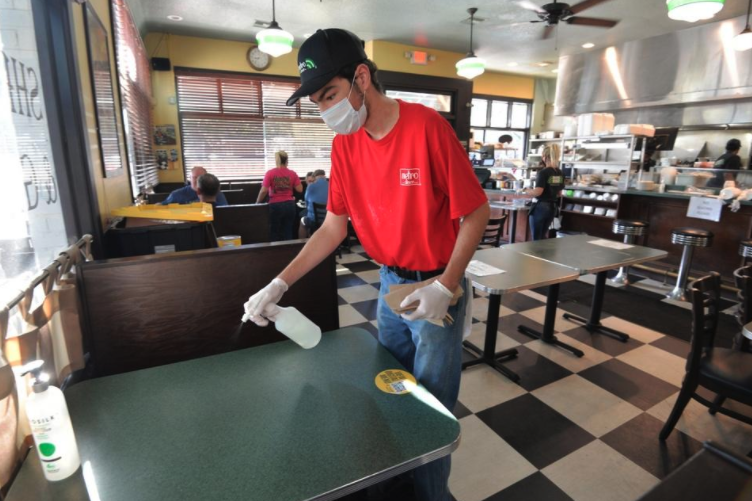 The Hendricks Avenue diner opened to eager customers Monday, the first day allowed under the governor's order.
"At the start of the week, our sales were an even split between our in-dining room service, delivery and takeout, and now our dining room has picked up speed and taken the lead," Ed Lenhart, Metro Diner managing partner, said Saturday.
He said the transition back to dine-in seating from only being allowed to do takeout and delivery has gone smoothly. Metro Diner like other restaurant's is observing social distancing regulations and taking other precautions against the virus.
Since reopening, Lenhart said they are seating approximately 200 guests a day at the diner, which is open 7 a.m.-3 p.m. daily.
"It was such a great feeling to be able to call my team and let them know that they could return to work," said Lenhart, who's been in the restaurant industry 40 years including five with Metro Diner.
″... Our employees have been waiting for the day they could come back to once again support themselves and to reconnect with their diner friends and family," he said.