Metro Diner serving up Reuben for Anniversary
Celebrating its 30th anniversary with a rotation of beloved dishes that put the restaurant on the map, Metro Diner is now serving up a classic Reuben stacked with deli-sliced corned beef, sauerkraut, melted Swiss cheese and thousand island dressing on grilled rye bread.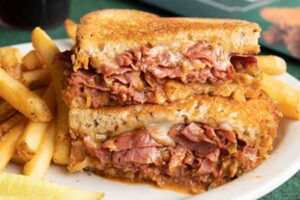 This sandwich is available for dine-in, to-go and delivery through October 31, 2022.
Diners may also order seasonal Pumpkin Griddles - Belgian Waffle, Pancakes and Homemade Bread Pudding all drizzled with cream cheese icing, candied pecans and cinnamon butter topping.
View original article from The Charlotte Weekly