Celebrating Metro Diner's 6th Annual National Fried Chicken & Waffle Day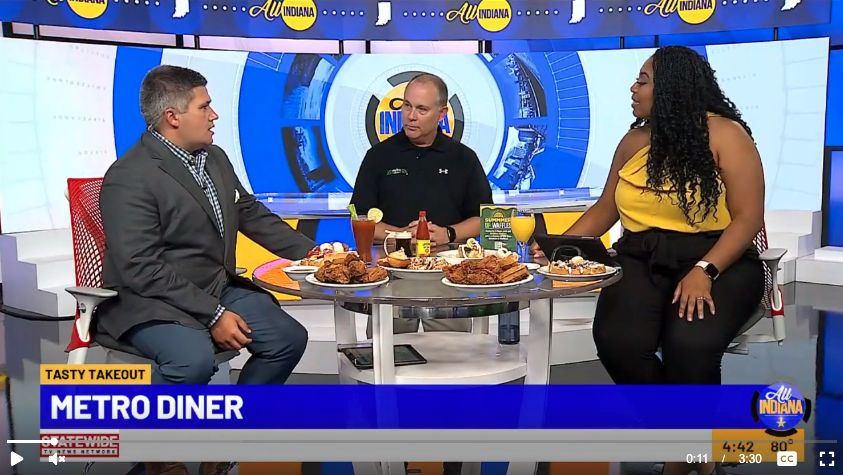 Metro Diner is celebrating its 6th Annual Fried Chicken & Waffle Day. To spread awareness of this delicious holiday, Erik Marks from Metro Diner Greenwood joined WishTV in studio to introduce them to this famous dish and a few other guest-favorites including the Fruity Waffle, Cinnamon Roll Style Waffle, and seasonal Bread Pudding.
From wishtv.com:
Gather 'round, food enthusiasts, for it's a day of delectable indulgence – National Fried Chicken and Waffle Day! At the heart of this scrumptious celebration is the culinary virtuoso, Chef Erik Marks from Metro Diner. With a flair for redefining classic comfort food, Chef Marks takes center stage today, promising an array of waffle creations that are truly "anything but basic," as he playfully puts it. From the zesty allure of Lemon Blueberry to the heartwarming embrace of Cinnamon, each waffle promises a symphony of flavors that will surely tantalize taste buds and inspire even the most discerning palates.
However, the surprises don't stop there, for Chef Erik Marks has crafted a culinary marvel that's sure to steal the spotlight – Waffle Tacos! This inventive fusion showcases his innovative prowess, encapsulating the essence of both breakfast and dinner in a delightful handheld treat. With crispy fried chicken nestled within the warm embrace of a waffle shell, it's a harmonious blend of textures and tastes that beckons both nostalgia and novelty. As Chef Marks takes the culinary world by storm, he effortlessly captures the essence of this day by reinventing a classic duo and turning it into a feast for the senses that's bound to be remembered long after the last bite.