10 Metro Diner Menu Items Under $10
Quick! Who is on the $10 bill!? (It's Alexander Hamilton…)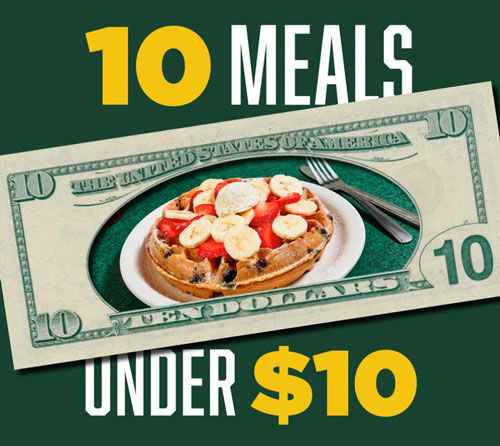 Budget-friendly Metro Diner menu items 
1. Fruity Waffle $9.39
A blueberry Belgian waffle topped with strawberries, bananas, and powdered sugar.
2. Metro Pancakes $7.79
A short stack of light, fluffy pancakes.
3. Oatmeal Breakfast $5.99 – add side of Biscuits
Served with brown sugar, raisins, and a side of seasonal fruit. Add a side of biscuits and still come in under $10
4. Spicy Honey Chicken Biscuit $7.49
Buttermilk marinated chicken tender tossed in a spicy honey sauce on a biscuit. Served with choice of side.
5. Bacon, Egg & Cheese Croissant $8.99
Bacon, scrambled eggs and cheddar cheese on a flaky croissant. Served with choice of side.
6. Belgian Waffle $7.99 
Thick and light, a true Belgian Waffle
7. Cinnamon Roll Pancakes  $9.99
Two pancakes swirled with cinnamon and sugar, topped with cream cheese icing, candied pecans, and cinnamon butter.
8. Avocado Toast – $8.99
Fresh chopped avocado on eight-grain toast, topped with diced tomatoes and everything bagel seasoning. 
9. Grilled 3 Cheese $7.99 
Cheddar, Swiss and provel on grilled white bread. Served with a choice of side.
10. ½ Sandwich & Soup $8.99 
Turkey & Swiss, Ham & Cheddar, or Chicken Salad. Served with a coup of soup.
Menu Hack: Get any Metro Diner entreé for under $10 when you sign up for Metro Diner's E-Club. After joining you'll be sent a code for 50% off your next entreé. Sign Up Now
View all Metro Diner Menu offerings
*The list above reflects in-diner and pickup pricing, before tax and gratuity. Third party delivery prices may vary.