Steak & Scramble Bowl Available All Day
Your favorite dinner flavors and the best things about breakfast, all nestled together in our mouthwatering Steak & Scramble Bowl.
Enjoy seasoned sirloin steak, scrambled eggs and roasted grape tomatoes, served over hashbrown potatoes and drizzled with hollandaise sauce. Whether you have it for breakfast, lunch, or dinner… well, that's up to you!
Available now for just $11.99 for dine in, takeout, or delivery.
All Around Delicious

The reviews are in and our Steak & Scramble Bowl is a must-try.

"This beauty combines hashbrowns, tomatoes, eggs and steak topped with a hollandaise sauce. All I can say is major yum!"
– @MichaelMass Foodie

"🥩  and 🍳 anytime of the day? Exactly what we need."
– @thehouseapphuntsville

"Had the Steak & Scramble Bowl. It was amazing. Love this place."
– Sue B., Oviedo, FL

May we also recommend...
Bloody Mary – $2.99
Add a few more veggies to your Steak & Scramble Bowl order — in liquid form. Nutrition aside, what we do know is Bloody Marys amp up the flavor of our Steak & Scramble Bowl and boost the fun of any Metro Diner outing.
Join us in the diner and enjoy this hearty cocktail for just $2.99 all day!*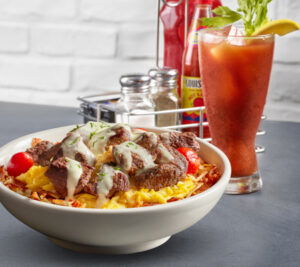 Italian Meat Lover's Burrito Press – $9.99
If you like our Steak & Scramble Bowl, we recommend this all-day-delicious dish.
The Metro twist on the classic breakfast burrito, the Italian Meat Lover's Burrito Press wraps up scrambled eggs, mozzarella cheese, ham, bacon, sausage, and hashbrowns, sealing in the bold morning flavors with a quick press.  Served with marinara sauce and your choice of side.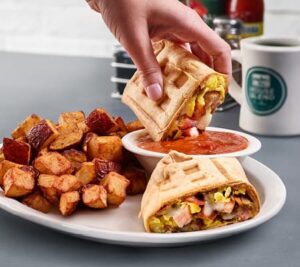 View Full Menu
*Alcohol not available at select locations. Check with your diner for details.